Regardless of whether your project is an enormous construction project or a house renovation project, the disposal of waste accumulated is of great importance. Businesses often require specific methods for removing waste, and the size and mobility of dumpsters make them an ideal method for disposing of the debris before being sent to a landfill. Various dumpster types are available, each with its loading method, capacity, and transport method.
We will provide you with a quick overview of the most common types of dumpsters and which dumpster is best suited to meet your disposal requirements.
Dumpsters for Construction
Construction dumpsters are the most common containers found on construction sites. It is common for companies to rent these large, open-topped dumpsters for a temporary period to serve multiple purposes. The construction dumpster is also referred to as a roll-off dumpster as it has wheels on the bottom that make it easy for the container to be towed away. These containers are the largest type of dumpster available, making them suitable for various cleanup projects, including yard waste removal, roof tear-offs, demolition, and construction works.
Construction dumpsters are also available in a variety of sizes and designs. Dirt dumpsters are used for the removal of yard debris, while some dumpsters are designed specifically for the removal of asphalt, bricks, and clean concrete.
Dumpsters For Commercial Use
Restaurants, gas stations, and parking lots are common places to find commercial dumpsters. There is a regular schedule of pickups of these dumpsters by dump trucks. Commercial dumpsters are generally rented permanently. Commercial dumpsters usually have a lid that reduces odors, repels pests, and protects the environment. Commercial dumpsters can be divided into two categories:
Rear-load Commercial Dumpster: Rear-load commercial dumpsters, which features an extended pole and a slanted back, is a commercial dumpster. For its contents to be transferred to a truck, the system is hinged and winched. Rear-load commercial dumpsters are attached to trucks manually, then pulled upward so the waste falls into the containers instead of moving overhead. Because of the slanted rear of rear-loading dumpsters, it can be challenging to dump waste. It is worth noting, however, that they are often larger and can contain a large amount of trash, as well as fitting more compactly into narrow areas.
Front-load Dumpster: As its name implies, front-load dumpsters are loaded into trucks from the front. It has a slanting top that can be lowered into the container to allow trash to be deposited. Additionally, slots are found on the sides of the container for a dump truck to attach its prongs so that it can lift the dumpster. With capacities ranging from 2 to 8 cubic yards, front-load dumpsters provide an easy solution for disposing of daily waste because of their compact design and slanted front.
Dumpsters for Residential Construction Use
There are many uses for residential dumpsters, including home renovations, decluttering, junk removal, or flooring removal. The dumpsters are temporary rental solutions that are dropped off and then removed by our company when workers need to dispose of waste while remodeling a home, yard, or large plumbing job, for example.
Dumpsters for residential use have a wide range of storage capacities, from small 10-yard "lowboy" containers used for dirt debris to larger trailer-type residential dumpsters that can be accessed from the driveway.
Getting The Best Dumpster For Your Construction Project
It is imperative to consider the type and size of the container when renting a dumpster. Dumpsters come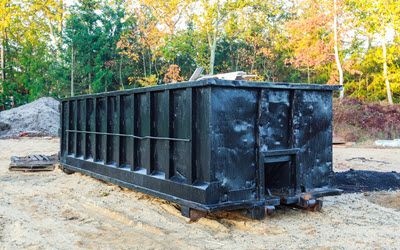 in various sizes and capacities, measuring in cubic yards to suit a variety of projects. The amount of waste and the nature of the project will determine the size of the container.
Depending on the type of dumpster, the size of the dumpster may vary. Every kind of dumpster has a specific range of sizes. The size range for commercial dumpsters differs from construction dumpsters.  BG's Big Box Service, Sun Valley, CA, can provide information regarding dumpster capacity options. Dumpsters are very vital when it comes to waste disposal, and with BG's Big Box Service, you can choose from a variety of dumpster rental options that are suitable for commercial or residential projects. Call us today to speak with our representatives about what dumpster is right for your project and needs.