Urban sanitation has a huge influence on the overall health & well-being of the general public, as a result, it is very important to maintain a clean environment. In today's fast-paced world, individuals and business owners are so busy with different activities and there may not be enough time for commercial and residential property owners to thoroughly clean their properties. Nevertheless, the importance of having a clean environment cannot be negotiated.
If you are looking for a good cleaning company, you should consider a few factors. Check out our recommendations below:
What type of services does the sanitation company provide?
Identifying the type of service offered by a company is the first step toward hiring them. A variety of services are offered by companies, while others specialize in providing sanitation services to specific types of business or residential clients. Hence, it's vital that you hire a sanitation company that offers all or the specific service you need.
Training & Expertise
If you're looking for a sanitation company, a good question to ask is, "How long have you been in this business?" or "How long have you been providing your services?" It is also advisable to inquire whether they have any current clients similar to you. Sanitation for clients with similar needs as yours is essential, so make sure they have relevant experience as well.
Find out exactly where their experience lies, since different industries have wildly different cleaning needs. This factor is more important if you have a commercial property. Also asking about their employee training and expertise level is a good idea. This will help you find out how thorough their hiring process is and what kind of staff they have.
Legal Background
Licenses and insurance coverage should be in place for a commercial sanitation company operating above the board. The insurance will cover any damage caused by the company's services, so you won't have to pay extra.
Other legal matters need to be considered as well. Are all employees of the company eligible to work in the country? Are all their staff background checked to ensure they are trustworthy and honest? Do they give their training on the need to maintain security when they arrive and leave your premises? To get real answers, you should ask all these questions.
Equipment & Supplies
An urban sanitation company will be able to give you a high-quality cleaning result when they use the right cleaning supplies and equipment. It is more efficient and thorough to clean with professional equipment. Keeping your equipment in top condition is a must for any self-respecting sanitation service company. Clients should not be charged for equipment maintenance.
The sanitation company must take inventory of every essential item. Having what you need at hand when you need it is also something to consider.
Customized Prices
You should get a customized quote from a commercial sanitation company before you hire them for your job. When a company has a fixed price, notwithstanding the kind of service you need, this is a red flag because you may end up paying more even when your cleaning needs aren't too complicated.
A detailed inspection of your property by a decent sanitation service company will determine how much garbage removal is needed. They will estimate your price based on the property you want to keep clean.
Referrals
Get references from current and past clients to get an idea of the company's reputation. It's a red flag if they refuse to provide referral details. Assuming they agree, this is your chance to ask the company all your above questions. This is why it is important to prepare a list of questions you want to ask before you call a sanitation company.
Reviews on Facebook, Google business pages, and other websites that have a reviews section can also help you figure out a company's reputation. Sanitation companies that consistently get good reviews both online and in person may be well worth your money.
The Right Trash Container Makes it All Easy
The right trash container makes a world of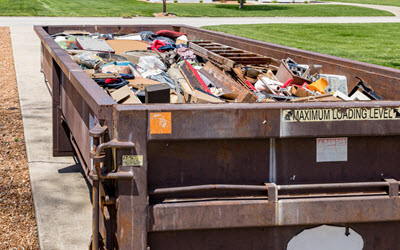 difference whether you're a homeowner doing spring cleaning or a contractor working on your latest project. BG's Big Box Service Inc. takes care of everything from finding the right container for your needs, arranging and delivering the container on the day of delivery, and collecting your garbage container when you are done. Throughout the San Fernando Valley and Los Angeles and Ventura County, we have rented over 1,000,000 containers since 1981 to dispose of your waste. Call us now for a clean environment and to keep your area sanitary!