When you have hazardous waste to dispose of, you may feel a bit lost as to how to approach the problem. No worries! BG's Big Box Service is here to help. Below, we'll discuss what might constitute hazardous waste, how renting a dumpster can help you handle it, and what you need to know about renting a dumpster for hazardous waste.
What is Hazardous Waste?
Chances are, if you're here reading this blog, you already know you have some hazardous waste that you need to deal with. But do you know about all of it? Lots of farming, construction, automotive servicing, and manufacturing produces hazardous waste, such as:
Oil filters
Herbicides
Pesticides
Radioactive materials
Solvents
Flammable liquids
Aerosols
Lubricants
Antifreeze
Fluorescent tubes
Computers
Televisions
Cell phones
Asbestos
This is of course not an exhaustive list — consult the EPA website to determine if anything you are throwing away might be considered hazardous.
Communicate with Your Rental Company
While hazardous waste does usually go into the same type of container as nonhazardous waste, the company you are renting the dumpsters from will need to know ahead of time that you're using it for more than just regular trash. They may let you know of some specific items that cannot be disposed of in their dumpsters, so be sure to keep that in mind as you begin tossing items.
It is also important to be aware of the fact that you cannot mix hazmat with any other waste. Landfills do not allow the two to be mixed, so if you mix the two, you could be struck with some hefty sorting fees from your rental company. You could also potentially be fined by your local, state, or federal government for mixing regular waste with hazardous materials.
Choose the Right Size
When it comes to selecting the right dumpster rental for your waste disposal site, the first thing you'll need to consider is the size of the unit you will need. We offer everything from a small 3 yarder all the way up to a 40 yarder. If you are unsure of which size you will need, call to speak with our knowledgeable staff. They will ask you about what you're disposing of, how much, as well as how much space you have to work with to determine the best size for you.
Benefits of the Dumpster Rental
You might be wondering why it's worth renting a hazmat dumpster at all, if you have to keep everything separate anyway. The answer is simple — when you rent a dumpster from BG's Big Box Service, you're also paying for our knowledge and experience in waste disposal. While it may be "just trash" to you, disposing of hazardous materials properly is a big deal, so having the experts on your side can help keep you safe as well as keep you on the right side of the law.
Trust BG's Big Box Service
Whether you are a homeowner, business, or contractor, BG's Big Box Service is here to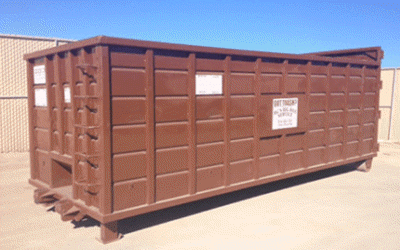 help ensure your waste is handled and disposed of properly, whether it is hazardous or otherwise. We offer various dumpster sizes so you can always be sure to have exactly the dumpster you need.
When you live in or around Los Angeles County, Ventura County, or the San Fernando Valley, we are the top choice for dumpster rentals that are delivered with eco-friendly delivery trucks, so you can feel good about the choices you're making regarding dumpster rentals. We also have the guaranteed lowest rates in the area, and we are family owned and operated, so you can be sure we'll stand by all of our promises.
Our knowledgeable staff is dedicated to helping our customers with the friendly service they deserve. That dedication to customer service is what has made us the top dumpster rental company in the area, and what keeps our customers coming back for more. No matter what type of waste disposal job you have coming up, contact us today to learn more about how we can help you find the perfect dumpster for the job and handle the disposal with no stress for you.