Is your company planning a huge project that will need a lot of garbage removal? If this is the case, hiring a dumpster is something you should seriously consider. To say the least, attempting to dispose of all of that rubbish on your own may be challenging and irritating.
So, where do you begin? Will those large garbage bags be sufficient for the job? Most likely not. Your next major job will operate more easily and effectively if you rent a commercial dumpster. It will be clear why renting a dumpster is the ideal option for a large job once you grasp the advantages.
Four Major Advantages to Hiring a Dumpster Rental Service
Simplicity and Convenience
One of the best things about renting a business dumpster is how simple and convenient it is. You will not be responsible for obtaining or removing the dumpster from your site. All you need to do when you need a dumpster is call our dumpster rental business, and we'll deliver it and pick it up when you're through. Renting a dumpster for your business will make construction, demolition, and renovation operations go more smoothly.
It's also a good way to get rid of shredded paperwork, damaged furniture, and obsolete equipment during an office cleaning. This reduces the need for a large number of garbage bags to dispose of all of the rubbish. Whatever your home or company's dumpster needs are, it's a terrific method to improve the efficiency of the work at hand.
Cleanliness and Safety
Building and renovation projects sometimes contain heavy or sharp things that must be disposed of safely to avoid workplace hazards. Other types of garbage, such as paper, can also cause fires if left in potentially risky regions. A workspace should always be clean and safe. Allowing a pile of rubbish to accumulate there will put the safety of your employees at risk.
A commercial dumpster rental is an ideal method to keep your workplace clean and safe, whether it is through a major refurbishment or you're making some adjustments by clearing out the whole office.
Also, if you run a green business, you owe it to yourself to hire a dumpster whenever the opportunity arises. You'll have to dispose of all of the garbage you generate and roll-off trucks will allow you to transport substantially by taking all your waste away in a single trip. This helps to cut CO2 emissions for something that would otherwise need many visits. You can responsibly dispose of big volumes of waste from your property with the help of a roll-off dumpster rental service. You will feel confident that the garbage is properly disposed of following local regulations.
Waste Disposal Regulations
When it comes to disposing of huge volumes of garbage, many large companies disregard waste removal regulations. Many items cannot be disposed of in a dumpster, although most people are unaware of this. Understanding the rules and regulations around garbage collection is critical for avoiding any penalties or fines for your company.
Fortunately, your dumpster rental business will be able to inform you exactly what you may and cannot throw away. They will also be able to assist you in determining the best location for your dumpster since certain locations have limits on where they may be placed.
Versatility
Garbage disposal is adaptable in terms of the types of waste it can manage. Construction trash, demolition jobs, house upgrades, and so much more are all included. It is critical to select the appropriate dumpster type and size. Finding a dumpster rental that best meets your project demands requires accurate predictions of the rubbish you want to dispose of. Furthermore, there are a variety of business garbage containers available that can handle hazardous waste disposal.
Every Commercial Project Needs a Commercial Dumpster Rental
We provide economical residential and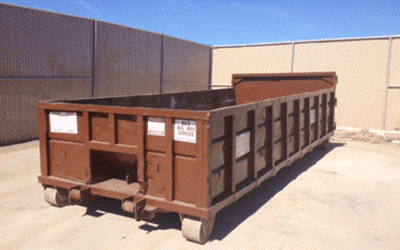 commercial dumpster rental services for all of your business requirements at BG's Big Box Service, Sun Valley, CA. We have a wide choice of dumpster sizes available to accommodate any disposal project. Dumpsters in the sizes of 3, 10, 20, and 40 yards are available. You won't have to worry about overpaying for a larger container since we'll work with you to determine the correct size for your project. Simply give us a call today!