Dumpster rental companies provide dumpsters to commercial and residential customers for various purposes. Dumpsters come in different sizes, and rental companies typically have a range of dumpsters to choose from to suit their customer's needs.
Dumpsters can be used for a variety of purposes, such as for removing debris from construction sites, landscaping projects, or for household cleanups. Dumpster rental companies typically provide dumpsters on a weekly or monthly basis, and customers can arrange for pick-up and delivery of the dumpster as needed. Rental companies generally charge by the size of the dumpster and the length of time that the dumpster is rented for.
Residential Rentals
Dumpster rental is a popular choice for residents who need to dispose of large amounts of waste. A rental can provide a convenient and efficient way to dispose of refuse, and they are available in a variety of sizes to suit the needs of any project.
Dumpster rentals are frequently used for home renovation projects, as they provide a safe and easy way to dispose of construction debris. They are also perfect for spring cleaning projects, as they can quickly and easily remove large amounts of unwanted junk. Or, if you are having a party and expecting a lot of guests, you may want to rent a dumpster to avoid having to deal with all the garbage afterwards.
Rentals are an essential tool for anyone who needs to get rid of large amounts of waste, and they can be a great way to keep your property clean and tidy!
The Perfect Size for Residential Use
Dumpster rentals come in a variety of sizes for residential use. The most common dumpster rental size is 10 yards, which is perfect for smaller projects like cleaning out the garage or gutting a small bathroom. For larger projects, such as renovating a kitchen or removing an old deck, 20-yard dumpsters are the best option.
Whatever size dumpster you choose, be sure to rent from a reputable company that offers delivery and pick-up services. That way, you can focus on your project and leave the clean-up to them.
Commercial Dumpster Rentals
Commercial dumpster rentals are a popular choice for businesses that generate a lot of waste. Whether it's a construction company disposing of building materials or a restaurant getting rid of food waste, dumpsters provide an efficient way to get rid of large amounts of trash.
Dumpsters come in a variety of sizes, so businesses can choose the right dumpster for their needs. And because dumpsters are typically rented on a monthly basis, businesses don't have to worry about long-term commitments.
Dumpsters are also equipped with wheels, making them easy to move around. This is especially helpful for businesses that don't have a lot of space on their property. Overall, commercial dumpster rentals are a convenient and affordable way for businesses to manage their waste.
The Right Size for Commercial Use
Dumpster rentals come in a variety of sizes to suit the needs of businesses of all types and sizes. The most common dumpster size for commercial use is the 40-yard dumpster. This dumpster can hold up to 40 cubic yards of waste, which is equivalent to about 16 pick-up truckloads.
Other dumpster sizes include 30-yard dumpsters, 20-yard dumpsters, and 10-yard dumpsters. To determine which size dumpster is right for your business, you'll need to consider the amount of waste you generate on a daily basis. For businesses that produce a large amount of waste, a 40-yard dumpster may be the best option. However, if you have a smaller business with less waste production, a smaller dumpster size may be more suitable. Whatever your needs, there's a dumpster size that's right for you!
BG's Big Box Service
With more and more people wanting to get rid of their unwanted junk, dumpster rentals have become a popular option for getting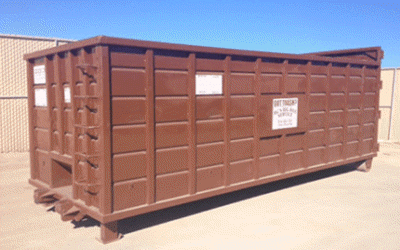 rid of all sorts of waste. However, with so many dumpster rental companies out there, how can you be sure that you're choosing a reputable one?
Our company is licensed and insured. This will protect you in case anything goes wrong during the dumpster rental process. Read our online reviews to see what our clients are saying about their good experience with our rentals. We proudly serve the Sun Valley, CA area and are here to talk about your residential or commercial needs and give you a quote so we can drop off your dumpster when you need it and conveniently pick it up when you're finished!