When one thinks of renting a dumpster, generally it is associated with large trash from construction projects, renovations, and the like. When you run a business, you want to ensure that you have proper waste management systems in place. Renting a commercial dumpster is a solution for this.
Here are the top reasons why you should consider renting a dumpster:
Safe and sanitary
Effective water disposal
Cost Savings
Complimentary convenience
When To Use a Commercial Dumpster
Construction or demolition activity
Landscaping projects
Exterior or interior renovation
Moving in or out of an office
Excessive junk accumulation
Spring cleaning tasks
There are several considerations when committing to a rental, the size of the bin, what can be discarded, weight limits, if you have a suitable space, and finding the right rental company for your needs.
The Size
Dumpsters come in a variety of sizes. Selecting the correct size is the first step in the process. You want to ensure that you select the correct size, too small and you would run out of space and too large you will be unnecessarily overspending.
Dumpsters typically are available in 10, 15, 20, 30, and 40 yard bins. So how do you decide on a size that is best for you?
Small Projects: Dirt removal, minor remodels, single-room cleanouts, and heavy debris disposal. These are best served by a 10 or 15 yard dumpster.
Medium Projects: Construction and repair utilize a 15 or 20 yard dumpster.
Large Projects: Demolition, large renovations, bulky item removal, and large-scale construction usually opt for a 30 to 40 yard dumpster.
What items cannot be thrown into a dumpster?
It may come as a surprise, but you are not permitted to throw certain items in the dumpster. It is good to familiarize yourself with that list of items before you rent the dumpster.
A failure to comply could result in penalties as you may fall into a breach of your contract with the rental company. This is just a guideline as the list may differ depending on your state and the size and type of dumpster rented.
Do not throw away these in a dumpster:
Aerosol cans
All liquids
Antifreeze
Appliances
Asbestos
Barrels
Batteries
Chemical products
Computers
Contaminated oils (mixed with solvents, gasoline, etc.)
Dirt
Fluorescent tubes
Hazardous waste
Herbicides and pesticides
Industrial waste
Lubricating/hydraulic oil
Medical waste
Microwaves
Monitors
Motor oil
Oil filters
Other flammable liquids
Paint (except dried latex paint cans, no liquids)
Petroleum-contaminated soil/lead paint chips
Propane tanks
Radioactive material
Railroad ties
Solvents
Televisions
Tires
Transmission oil
Yard Waste
Weight Limits
If you've rented your dumpster to fill it up, you should be mindful of the weight limit that is imposed by the rental company. Exceeding the weight limit will result in you incurring additional charges. The reason for that is that the rental company has to offset costs to haul the heavier dumpster.
Finding the Perfect Spot
Before renting the dumpster you should find a suitable spot for it. The following should be considered:
Ensure you choose the right size of the dumpster.
The location of the dumpster should be easily accessible for the truck delivering and collecting
Make sure there is no obstruction above or on the sides of the dumpster, such as wires, lights, or fencing.
If you are placing the dumpster on the street, ensure that you get a permit and that it does not cause an obstruction or inconvenience to others.
Understand the Rental Agreement
As with any service you will procure, the costs differ. Some deciding factors will be the size of the dumpster, the duration of the rental, and the location. Ensure that you enquire about all costs, as it is not uncommon for customers to be blindsided with additional unforeseen charges.
This is why it is important to have a reputable company who is accessible to you to answer your questions and review your contract before renting. Discuss all charges, as well as potential charges. At BG's Big Box Service, we are transparent in our rentals and are here to answer all your questions!
Affordable Dumpster Rentals in Los Angeles and San Fernando
BG's Big Box Service has been in the dumpster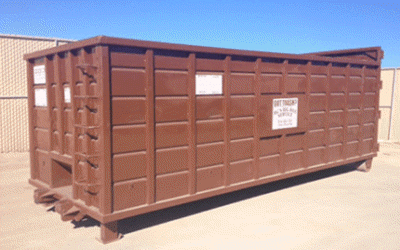 business for over 40 years. We are located at 8629 Bradley Ave. #A in Sun Valley, CA.  We are family-owned and operated and have been committed to offering our customers the best personalized service and lowest price. We are also fully bonded and insured. If you find a cheaper rate, call us and we will match or beat their price! We also offer discounts on multiple container rentals. Call us today with any questions you have, and we'll be happy to discuss your needs and how we can help.