According to CalRecycle, the state agency responsible for monitoring the new regulations, California generates 23 million tons of organic waste every year. Decomposing organic waste in landfills releases methane, a powerful greenhouse gas 25 times more potent than carbon dioxide in terms of global warming. In the U.S., organic waste accounts for the third-highest level of methane emissions.
It is possible, however, to decrease the problem at home and at work in a variety of ways. By managing organic waste properly, you can reduce your waste production and save the environment.
Tips On How To Handle Organic Waste Treatment
You should always handle organic waste differently than regular household garbage when disposing of it. There are several ways to dispose of organic waste, such as composting, worm bins, and recycling.
Worm Bins
Worm bins are one of the safest methods of dealing with organic waste. Essentially, a worm community will be created inside a bin that will take care of discarded food and plant debris. Your first step will be to get a clean, decently sized bin. After that, you can put some dirt in the dish for your worms to live in. Your worms are now ready to be introduced to their new environment once you've added those items. Your local garden or pet store can provide you with worms for your bin. Besides giving you tips on how to keep your worm community happy, they can help you manage your organic waste. Children can also benefit from this experience. As well as learning about the jobs various animals, like worms, perform, they can also learn more about the protection of the environment.
Composting Bins
Composting bins are waste containers specifically designed to contain organic waste like food and plants, similar to worm bins but without the creepy crawlies. Similar to garbage pickup schedules, most municipalities pick up composting waste. In recent years, composting has become one of the most popular methods of handling organic food waste. If you have any leftovers or unused portions, simply place them in the bin. The compost must be placed in a biodegradable bag or bin before being picked up.
Cleaning the compost bin regularly is an easy way to fix the problem of a bad smell from the bin, which some people worry about. Once it is empty, you should wash it quickly to reduce odors. Compost bins are also often cited as a source of flies' attraction, which some people worry about. However, while a properly maintained compost bin may garner the attention of gnats, flies shouldn't be much of an issue.
Disposal Systems For Food Waste
Having a food waste system installed in your sink is another way to help you deal with organic waste at home. An experiment in California saw in-sink food systems being installed in new houses. In these homes, 35 percent less food waste was generated. Additionally, having a disposal system in your sink reduces the amount of garbage in landfills and the amount of smell created.
Cut Down on Food Waste
Reducing your food waste can also reduce the amount of organic waste you generate. Fruits and vegetables, which spoil easily, should be bought less frequently rather than in large quantities. If you do this, you won't have to throw out spoiled food that has sat in your fridge waiting to be consumed.
Hire An Organic Waste Container
It may surprise you to learn that junk removal companies offer organic waste bins for managing food and plant waste. Rental bins allow you to customize the size that works best for you, and you can have them collected once they are full. To promote a safe way to dispose of organic waste, some neighbors may band together to get a larger bin that everyone can use. These can also be of use for large events where organic waste will be generated, such as catered events.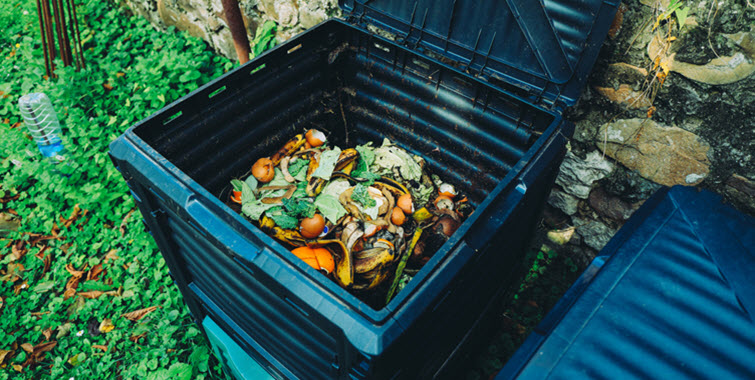 BG's Big Box Service Can Help
Organic waste is generated in large quantities by Californian homes. It is unfortunate that this waste ends up in a landfill when it gets thrown in with your other household garbage. In the course of decaying organic waste, methane gas will be released into the atmosphere, which is extremely hazardous to the environment. It is possible to reduce the amount of waste generated by your household each year by using different methods of handling your organic waste.
Contact BG's Big Box Service online or visit our Sun Valley, CA service center for more information about how our junk removal services can help you manage your organic waste.