Whether you run a business or live in a household, waste disposal is a crucial part of ensuring cleanliness and smooth operations. It is critical to have a dumpster where you can dump waste and have it removed. Dumpster rentals are an excellent waste management solution for both businesses and homeowners. You may operate more effectively and systematically by eliminating accidents, waste pick-up issues, and other unexpected mishaps.
Many people are worried about how to properly dispose of inorganic waste from their companies and homes. The average person produces more than four pounds of waste every day. Making the right choice in trash management is important. Consider the following when you are selecting a dumpster rental company.
Factors to Consider When Selecting the Best Dumpster Rental Service
When seeking the best dumpster rental service for disposing of your inorganic waste, either at your home or company, it is very important to consider these factors very seriously. These will help guide you against working with ineffective and inefficient dumpster rental companies:
The type of inorganic waste
It would be beneficial to know the sort of inorganic waste you will be disposing of when picking a dumpster rental provider. There are basically two types of inorganic waste: hazardous & non-hazardous waste; and there may be constraints on what you may toss out based on the dumpster rental service provider you select. Following garbage disposal, a competent business should have a strategy in place for handling either type of inorganic waste. However, depending on the sort of waste collected from your house or company, a dumpster rental firm may charge differently.
Nearness to your home or company
Another factor to assess when selecting a dumpster rental service is its nearness to your company or home. A dumpster rental service located far away may fail to deliver its services on time; you might have to pay a larger charge for the service to cover transportation costs. A dumpster rental company that is near your company or home may provide faster and more satisfactory service than a waste management company that is far away.
Appropriate waste disposal methods
The dumpster rental service provider should use appropriate and eco-friendly waste disposal procedures that protect the environment by recycling waste. When selecting a dumpster rental service, inquire about their track record of appropriate waste disposal. A skilled waste management business will be able to handle the waste and answer your questions thoroughly. Ideally, you would select a trash management firm that places a high value on recycling.
The dumpster's size
When choosing the best dumpster rental service, one very important factor to consider is the dumpster's size. You may encounter dumpsters of various sizes to select from. You should make sure to select one that is large enough to handle the amount of inorganic waste you intend to dispose of. Make certain that the dumpster rental service provider has the appropriate size of dumpster for your project. While it may seem that estimating how much inorganic waste you need to dispose of might be tricky, you don't want to rent a large dumpster that you won't utilize. A skilled dumpster rental service will be able to help you estimate the best size dumpster for your project.
BG's Big Box Service, the Best Dumpster Rental Service in Sun Valley, CA
For homeowners with projects at hands and company proprietors with big plans in California, finding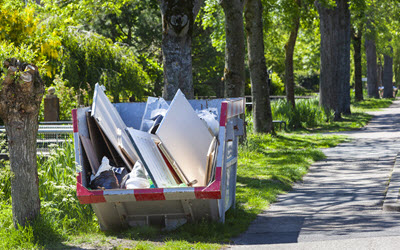 the best dumpster service to hire may appear to be a challenging endeavor. Before you schedule the dumpster rental, you should finalize the important elements, such as space, delivery, and pick-up processes. You can choose the best dumpster for your requirements if you keep these considerations in mind. A competent dumpster rental service, on the other hand, will assist its customers in selecting a suitable dumpster container.
At BG's Big Box Service, we are dedicated to helping our customers find the perfect disposal solution for their project's needs. If you find yourself in need of renting a dumpster from a reliable waste management company in Sun Valley, CA, then we've got you covered. We are highly experienced and more than capable of providing the appropriate dumpster and proper waste management service.