Commercial sites are very busy places with a wide range of activities that contribute a hefty portion of the trash in the area as both customers and workers use and dispose of items and packages. The importance of a clean commercial site cannot be overemphasized. An ideal commercial site is clean and odor-free so that staff and customers will not be grossed out when they have to come out to the site. Whether your site is air conditioned or an open-air area, a clean commercial area ensures both happy customers and happy vendors.
Let's take a look at the causes of a dirty environment and how to quickly make sure it never causes problems:
Ignoring areas that need routine cleaning: Apart from stains and contamination of high-touch areas, there is another way a commercial site may get dirty, which is through improper disposal of trash. Some areas in the site require regular cleaning, especially those areas where packing and unpacking happen. Consequently, ignoring such areas creates a risk of a dirty commercial site.
Using the wrong people for the job: This is a very important aspect of keeping a clean site. When wrong people who are not professionals are allowed to carry out cleaning services such as trash disposal, it becomes a real problem, and the whole thing can create an unclean environment.
Not tracking your waste: When waste is properly tracked, you will know the amount of waste generated by the site and things that can lead to a dirty environment. Knowing how much waste you generate is essential when it comes to getting a trash container that can handle the waste generated.
Improper staff training: When employees do not uphold the value of human health with respect to a clean environment, your commercial site will inevitably always be dirty. The ideal step to take is to train them in proper waste management and instill the value of good hygiene in them.
Poorly chosen trash container: This is a very important aspect of keeping a clean environment and is directly related to poor waste tracking. A trash container smaller than the amount of trash produced by the site on a regular basis will lead to a backlog of trash which will lead to a dirty environment.
Styles Of Trash Containers For Your Trash
When it comes to knowing the style of trash container you need, an important factors are the size of your site and the number of people visiting. Let's see some of the different styles and sizes we can get:
3 Yarder: This is a rather small container measuring about 4ft x 4ft x 6ft. This container is perfect for keeping small commercial sites clean. It also handles spring cleaning and small jobs.
Lowboy 20 Yarder: The lowboy 20 yarder isn't something you'd call small or very big either. Measuring 4ft x 8ft x 18ft, it is perfect for thrash in medium-sized commercial sites. This container has two door entrances and ensures your space is always clean since your thrash now has a large enough space to be stored away from people.
10-Yarder: This container is about the same size as the lowboy 20-yarder, but it is made to hold much heavier-duty trash. It measures 2ft x 8ft x 18ft, and is perfect for dirt, rock, asphalt, concrete, brick, sand, etc., in medium-sized commercial sites. The only caveat is that it is not made for trash and so is not really viable for food retail environments, but it is ideal for construction and renovation sites with heavy-duty industrial waste to deal with.
Make sure you make the best decision for your hygiene by asking the professionals about the perfect trash container for your needs.
BG's Big Box Service for your trash container needs
Here at BG's Big Box Service, we understand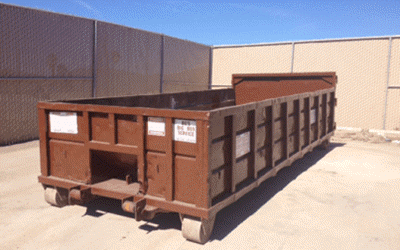 the importance of keeping a clean commercial site, so we have dedicated our products and services to aid you in keeping a spotless environment.
For over 40 years, our expert team has provided outstanding services at very affordable rates with the aim of helping our customers maintain clean commercial sites throughout Sun Valley, CA.
Don't wait for your waste to become a problem; rent affordable trash containers from us today. Call us at 818-504-8116.