Renting a dumpster is the best option while removing waste from a location. Waste ranges from construction debris to landscaping materials to shingles and more. The process may seem relatively straightforward, but it involves making various considerations if you are a first-timer.
You do not want to have surprises in the middle of renting a dumpster. As such, you should get as much information about the process as possible. This guide gives you tips on how to handle the waste disposal and hiring of a dumpster.
Determine Your Ideal Dumpster Size
Size is important when choosing the appropriate dumpster for your needs. The size of the dumpster also influences the cost of renting. While a large dumpster may cost more than a lower capacity one, the number of trips required to clear the waste may vary.
Ordering the wrong size may lead to additional and unnecessary costs. Additionally, you may find that you rent a larger size than required for your purpose. The different sizes available include the following:
10 yard dumpster: This dumpster is ideal for small to medium cleanouts, which hold enough materials for a small remodeling project of up to around 300 square feet of space cleanout.
20 yard dumpster: This dumpster is ideal for cleaning out close to 6 pickup trucks of debris.
40 yard dumpster: This dumpster is more suitable for commercial purposes and can hold about 240 of the 33-gallons of trash bags. It is best used for companies, city projects, and large demolition or remodeling of homes or apartment complexes.
If you are unsure, our representatives at BG's Big Box Services will help you choose the size that meets your needs.
The Nature of Waste You are Seeking to Dump
It is advisable to know the nature of your waste and source information about dumpster hire companies. This will help you avoid incidents that may result in extra billing. The cost may vary due to the differences in company policies, especially in things like mixing different materials. For example, mixing gravel and household waste may be against company policies leading to additional charges. Additionally, prices for heavier materials are higher than lighter materials. These considerations will help you make an informed decision considering the costing implications of disposal.
It is also important to avoid mixing hazardous waste, since they may have adverse environmental and health issues. Such materials should have prior authorization for safe removal and determination of the correct costing.
Fill Your Dumpster in an Innovative Way
Always fill your dumpster evenly, bearing in mind the weight considerations and restrictions of the type of dumpster you hire. Heavier materials should be arranged in the front of the dumpster and be well-compacted.
Also, consider the lawful limits on the transport of the materials. Different states have different weight limits, and breaching these laws may attract fines and fees. Carry out thorough research about the various laws in your state to avoid locking horns with the law enforcers. We are glad to help you with these issues, so give us a call for more information about laws in your area.
Additionally, you stand to gain more if your waste is appropriately arranged to fit in more materials, easing the burden of multiple trips and avoiding overhanging debris on the dumpster.
Create a Strategic and Adequate Space for the Dumpster
You are required to create enough space for the size of the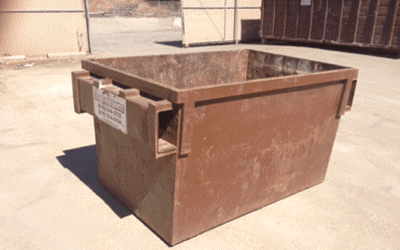 dumpster you choose. This includes delivery and pick up with a truck. While creating space is essential, it is also critical to ensure that it is also strategic for loading purposes.
The loading costs may reduce if you have your dumpster strategically placed. The location is also vital in considering the weight of materials being put into the dumpster. It is more challenging to move heavier materials in tight spaces; thus, place them in an area where the truck can load and off-load your dumpster and where it is convenient for you to use.
BG's Big Box Service is Your Trustworthy Company
When renting a dumpster, look for a company that has the following:
offers satisfactory answers to your questions
quick responses to your calls
agreeable terms of renting
clearly-outlined costing
and a proper outline of service guidelines.
At BG's Big Box Services, we meet your needs while providing excellent customer service. We are experienced in what we do and offer the lowest price in Southern California. If you are hiring a dumpster for the first time or need a cost estimate, visit our company in Sun Valley, CA, for all your waste disposal needs. Call us today!