Junk removal generally refers to the hauling away of unwanted items from a home or business. This can include anything from old furniture and appliances to construction debris and yard waste.
Junk removal companies typically have a wide range of services, and they can often customize their offerings to meet the specific needs of their clients. In most cases, junk removal is performed by a team of professionals who will carefully and safely remove the junk before disposing of it in an appropriate manner. This can provide a much-needed relief for those who are dealing with a cluttered space, and it can also free up time that would otherwise be spent on junk removal.
Dumpster rental is a term used to describe the process of renting a dumpster from a dumpster rental company like BG's Big Box Service. This process generally entails the customer renting a dumpster from the dumpster rental company, which we then deliver to the customer's specified location.
The customer then uses the dumpster to dispose of their unwanted items, and once they are finished, we pick up the dumpster and take it back to our facility.
This process is often used by businesses or individuals who need to dispose of large quantities of waste, but it can also be useful for those who simply need to clear out some unused space in their home or office.
Dumpster rentals can be an affordable and convenient way to manage waste, and they can be a great option for those who are looking for a way to declutter their living or working space.
Uses of a Junk Removal Service
As the name implies, a business who can remove junk specialize in the hauling away of unneeded items. This junk can be from inside a house or office, or it can be from a construction site. No matter where the junk originates, BG's Big Box Service has the experience and expertise to get rid of it in an efficient and safe manner.
In many cases, we can donate usable items to charity or recycle them with your permission. This helps to keep junk out of landfills and also benefits those in need. For example, a family who is moving may have a lot of furniture that they do not want or need anymore. Rather than throwing this furniture away, they can contact us to come and pick it up. We will then either donate the furniture to a charity or recycle it.
We can also be hired to clean up after a major event, such as a concert or outdoor festival. In these cases, we can haul away all the trash and debris left behind by attendees. This helps to keep the event venue clean and safe for future events.
When You Need to Rent a Dumpster
Dumpster rentals are large, heavy duty containers that are typically used for commercial or industrial waste removal. They can also be useful for homeowners who are undertaking a large home improvement project, such as a kitchen or bathroom remodel. Dumpster rentals can also be used for yard waste removal, such as when clearing out leaves and debris from a property.
Dumpsters come in a variety of sizes, so it is important to choose one that will be large enough to accommodate the amount of waste that will be generated by the project. Dumpster costs will vary depending on the size of the dumpster and the length of time it is needed.
BG's Big Box Service
For over 40 years, our team at BG's Big Box Service, Inc.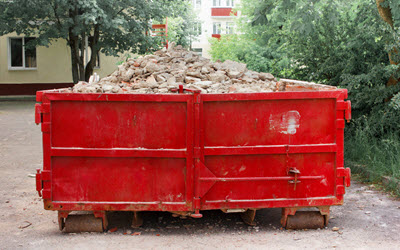 has helped homeowners, businesses, and contractors with all their trash container and dumpster needs. Over the years, we've had over 1,000,000 rentals!  We believe that the key is great customer service combined with the lowest rates in the area.
Our dedication and commitment to friendly service has continued to help residents all throughout the Sun Valley, CA region. We have four container sizes from our smallest at 3 yards to the biggest at 40 yards which comes with two doors for easy loading. Give us a call today to discuss your needs with our friendly staff.